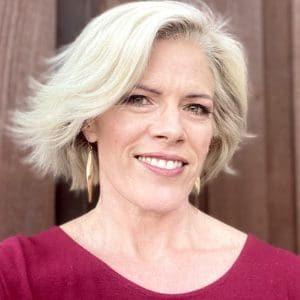 Hi, I'm Adrienne. I'm a singer, voice teacher, small music studio owner, and bassist.  And who knows what else after this.
And even though I don't waterski as much as I used to, the niche sport of competitive waterskiing will always be a part of my identity.
I started skiing at age 12. Fun stuff, in the summer, fooling around. But I was hooked. I started competing at age 16.
After delaying college a year to be an exchange student in Spain, I eventually graduated from Stanford University in a computer science-y major, while also starting the school's competitive water ski team.
After graduation, I left Silicon Valley for central Florida to pursue waterskiing for real. After an additional seven years of competition, including working for and being coached by the top female world champion waterskier Jennifer Leachman, I won Nationals three times. One of the slalom records I set in the US Western Region still stands after seventeen years. I'm pretty proud of that one.  
I still ski on the ski that I competed on since 1999 – a carbon fiber Goode.  Don't fix what ain't broke.
I moved to Boulder, Colorado in 2000 to work as a software developer until 2009.
Having joined my first band in 2007 and started my first band in 2009, I dove into music. I already played a bit of piano from when I was a kid. I learned to play bass, drums and a little bit of guitar; performed and recorded in various popular genres; and wrote music that got placed in film and TV.   I have also been the bass player for a few local bands including mine, Adrienne O, and the keyboard player for the Guitar Villians (sic).  I've enjoyed playing at some pretty great venues such as the Hard Rock Cafe, the Buffalo Rose, the Bluebird Theatre, the Gothic Theatre, the Fox Theatre, and Coors Field. 
I still write music, but with no particular plan or schedule. I'm sure we'll release some music and do a show again sometime.
I started teaching in 2009.  Now, I am an accredited vocal coach with the International Voice Teachers of Mix (IVTOM) and IVTOM's Manager of Technology.  I am  working on my Mentor Teacher status with IVTOM.  My studio, Performance High, has grown to eleven teachers and locations in Denver and Broomfield.
Now, my focus is growing Performance High and Nail Every Note (my membership site for vocalists), becoming a better bass player, pursuing ongoing vocal pedagogy education, releasing vocal tips on YouTube, and performing as Stevie Nicks in the The Petty Nicks Experience tribute band.
I live in Denver with my partner, Justin, who is also a musician, and a cat who likes to cuddle on my chest at least three times a day.