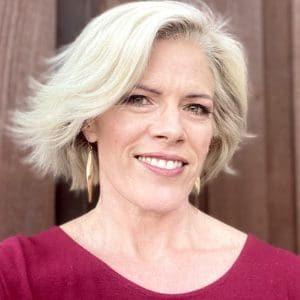 Adrienne is a CCM vocal instructor, performing and recording vocalist, music school owner, and rock/pop bassist.
As a vocal coach at her studio, Performance High Voice and Music Studio, she excels in bringing a technical approach to contemporary vocal instruction. She has been teaching voice since 2009 and is accredited as a teacher of Mix Singing through the International Voice Teachers of Mix (IVTOM).  Adrienne is also IVTOM's Manager of Technology.
Adrienne believes in building a large vocal skills toolbox. Once singers can learn to use their voices without thinking about technique, they can use it to express themselves artistically and honestly.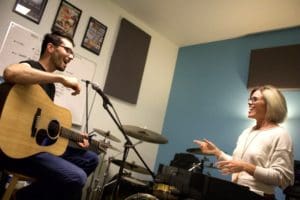 Adrienne helps vocalists reduce tension, sing efficiently, belt healthfully, sing with power, sing smoothly across their entire range without "gear-shifting", develop incredible tone, sing appropriately for the genre, and gain consistency.
Her vocal clients include other vocal coaches, lead singers in local bands, touring musicians, adults returning to singing after a long break, and teens who write songs or perform in their school musicals.
As a bassist, Adrienne focuses on pocket over flash, and always looks to serve the song above all else.  She has played for rock, pop, and pop-jazz artists such as Melissa Ivey, Pamela Machala, and Cody Qualls and sometimes performs on bass in her studio's professional backing band at student showcases. She was also the bassist and lead vocalist for dance band Urban Dance Theory and for her own band, Adrienne O.
As an artist, she has released three EPs of original electronic pop music, one of which she produced, and has original music placed in various film and TV series, such as Rosewood (Fox) and feature-length film A Remarkable Life. She now performs as Stevie Nicks in the Petty Nicks Experience, playing both locally and nationally at theaters and festivals, and in 2022 started to write original music again for her project, Adrienne O.
In a previous life, Adrienne graduated from Stanford University with a B.S. in Computer Science. She worked as a software and database developer, and later a project manager, for dot-com startups and B2B tech companies for a decade before switching careers into music. She was also a national champion waterskier and still holds an 18-year-old women's slalom record in the Western Region.
She lives in Denver with her musician boyfriend Justin, who plays guitar in many of the same bands, and a cat named Shanti who loves to nuzzle bass strings.
Education
B.S. in Science, Technology, and Society with a focus in Computer Science from Stanford University
Studied CCM voice with IVTOM president Mary Ann Kehler, IVTOM founder Dean Kaelin, and Brett Manning teachers
Accredited as Teacher of Mix Singing by the International Voice Teachers of Mix (IVTOM)
Live Music Method, Tom Jackson Productions in Nashville
Functional Vocal Training, Commercial Music Institute at Shenandoah University
Meredith Colby's Neuro-Vocal Method certification
Twelve years of instrument lessons (bass, piano, drums) with teachers such as Amy Shelley and Erik Martin (drums) and Alex Goldberg, Otis Lande, and Nate Marsh (bass)
Past Bands and Performances
Member of Counterpoint, all-female a cappella at Stanford University
Member of the Orlando, FL chapter of Sweet Adelines a cappella
Co-founder and lead vocalist of The Fever (wedding band)
Co-founder and lead vocalist of Dois (Brazilian and Latin jazz quartet)
Lead vocalist of Girls on Top! (funk/motown band)
Keyboardist of Guitar Villains (live karaoke band)
Bassist for Driving Karma (rock band)
Bassist and lead vocalist for Urban Dance Theory (top 40's dance band)
Vocalist for electronic duo Teal & Tangent (dark electronic pop)
Founder and lead vocalist of The Legend Makers (live karaoke band)
Backup vocalist for the Jacob Larson Band (millennial funk)
Bassist for Melissa Ivey (rock)
Bassist and lead vocalist for her band, Adrienne O (pop/rock)
Her band, Adrienne O, has headlined the Gothic and Bluebird Theatres and has also played at the the Bluebird Theatre, the Fox Theatre, the Oriental Theatre, the Gothic Theatre, Coors Field, Hard Rock Cafe, the Buffalo Rose, Summit Music Hall, and many other medium-sized Colorado venues
Current Bands
Performs as Stevie Nicks in the Petty Nicks Experience (Tom Petty/Stevie Nicks tribute band) which has played at Boulder Theatre, the Fox Theatre, the Rialto Theatre, and various other medium sized theatre venues around Colorado, and at festivals around the country.
Bassist for Cody Qualls and the New Ancients (pop/rock)
Bassist for Pamela Machala (pop/jazz)
Emcee and sometimes bassist for the Performance High Showcase Band (all commercial genres)